Taking over from The Black & White Parts Company and The Black & White Group in Australia which were founded on a philosophy of exploring new markets, world wide for buying and selling and sharing the result and benefits with clients, the Malaysian operation of The Black & White Group was launched into the expanded market of output device supply, maintenance and support.
Entering the Malaysian market in 2000, the Black & White Group brought with it a fresh approach and has noticed a marked sharpening in quality awareness among clientele. Encouraged by Dato Robert S. K. Lim to begin trading in Malaysia, Black & White Group has been able to enhance the daily operations of clientele through its two operating business Black & White Printercare Sdn. Bhd. (estd 2001) and Black & White Solutions Sdn. Bhd. (estd 2004) and more recently Black & White Services Sdn Bhd. Opening its offices in Subang Square, Subang Jaya was a landmark in the establishment and growth of Group's operations. A progression through a larger service centre in Bandar Sunway has seen the Group evolve into a client focussed boutique business based in Ara Damansara, Selangor.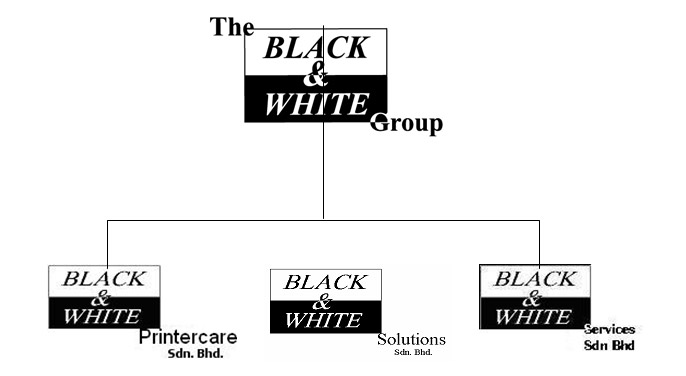 The Group now offers – through its principal operating entities – the following products and services:
Black & White Printercare Sdn Bhd:
Printers; parts, servicing, leasing, rental, sale
Printer Technician Training – internationally renowned and recognised course up to date with market movement and issues
Franchise/Licence opportunities for those who wish to be in their own business
Technical Support and advice
Black & White Services Sdn Bhd:
Boats; all sizes and ranging from suitable for emergency services work through to pleasure craft; all in durable material with minimum of 5 years warranty
Fish Farms; investor driven and investor friendly with excellent guaranteed returns
Golf Course Signage; customised signage for all facets of golf course management
Golf Memorabilia; a ball hit by Tiger Woods? Or a ball hit by the World Long Drive Champion for the Sultan of Perlis; perhaps a talking point putter or driver that is now retired, or a hole in one ball
Event Management – specific expertise in the facilitation of events and corporate promotion through golf
Black & White Corporate:
Corporate Consultancy Services; financial, management, sales, marketing,
Personnel and product/business development
Business Coaching/Mentoring
Product Partnering
Business Growth
CORPORATE MISSION
"Precise Service, On Time" 
BUSINESS BACKGROUND
The Black & White Group originated in Australia in 1998. From there we have used our experience and expertise to establish The Black & White group of companies in four countries; Australia, Fiji, Brunei and Malaysia. This experience has led us to gain work in more than thirty countries world wide. To fulfill our commitment to customer service we see no boundaries.
The Malaysian arm of companies was established with the new millennium in 2000 and incorporated in 2001 and has operated with upwards of forty dedicated and enthusiastic staff working for our customers distilling itself to a boutique service organization with an offering range beyond the conventional.
The Black & White teams are here to make day to day operations of your company more rewarding and simpler for you and your management team.